Logistics and Warehousing
We love to help you save money by providing you with the best logistics solutions for your business.  Our logisticians are celebrated for providing the most effective and efficient methods to transport for our customers.  We not only focus on delivering the absolute best service, but also operate as your internal transportation and logistics department.
You need a proven warehousing partner that offers competitive rates in the industry.  We're known to provide quality warehousing work very quickly and easily.  Our fulfillment centres and transport department works hand in hand to arrange for a well-coordinated on time delivery system.

Truck Load & LTL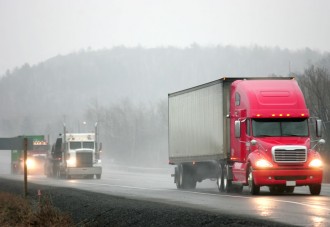 DELtaura specializes in Reefers and Dry Vans, offering TL (Truckload), LTL (Less Than Truckload) services.  We serve a vast geographical area, service is provided coast to coast in Canada and to and from the United States through a strategic alliance. Over the years, we've build a web of networks that makes it easy for us to move shipments quickly and efficiently without having to worry about exceeding hours of service or driver fatigue.

Overseas Shipments
It may be difficult for you to find the right company who can transport overseas freight.  Whether you're new to the overseas market or a frequent transporter, we can help you grow.  With competitive rates, we can help you save money.
Simply let us know if you will require air or ocean transportation services. You may not be sure about which customs forms you require!  We'll help gather and prepare all customs documentation and provide a smooth and worry free transaction.
Temperature Controlled
Temperature protection for freight constitutes a large part of our business.  Working in the food industry for over many years made us experts at keeping your freight at the right temperature.
DELtaura offers door-to-door refrigerated FTL / LTL transport services within Canada and the United States.  Our expertise is primarily in fresh and frozen food deliveries, including meat, produce, and packaged foods.
We offer heated services as well if you need to protect your goods from freezing. It's our responsibility to deliver your products at the right temperature!
Border Crossing
Great majority of our day to day business is crossing the border on both sides.  Rest assured that your freight will be arriving on time without any border delays.  We cross the border many times in any given day.
Expedite
With over 10 years of experience in fulfilling time sensitive deliveries and emergency shipments, DELtaura has become one of the industry leaders in hot freight. We provide expedited delivery and logistics services all over North America.  Over the years, we've build a web of networks that makes it easy for us to move shipments quickly and efficiently without having to worry about hours of service regulations or driver fatigue.
Most of our fleets are fairly new, equipped with a state of the art tracking system.  The best part of all is definitely our drivers, who have many years of experience and are well trained and equipped to handle all types of freight. We can make arrangements for a truck, aircraft, or both to ensure your time sensitive shipment is picked up and delivered to its destination as soon as possible.
Customs
Great majority of our day to day business is across the border.  Our well trained customs specialists strive to create cross border shipments as simple and easy as possible.
We know it's imperative that your freight arrives at the border with complete paperwork for a smooth border crossing.  We make sure that there aren't any delays and that your experience is hassle free. Not only do we work to clear shipments but we can also bring your freight with a Canadian or US bond clearance.
We participate in the following CBSA and CBP programs:
ACE Automated Commercial Environment
ACI Advance Commercial Information
C-TPAT Customs-Trade Partnership Against Terrorism
FAST  Free and Secure Trade
PIP Partners Against Terrorism
Bonded clearance into USA and Canada
FDA Food and Drug Administration
PAPS clearance into USA (Pre-Arrival Processing System)
PARS clearance into Canada (Pre-Arrival Review System)